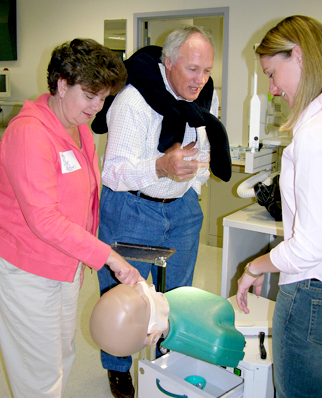 Dental freshman Emily Weldon (right) introduces parents Diane and Bill to her Sim Lab mannequin during Freshman Family Day, held Jan. 28 at the college. Nearly 200 family and friends attending Family Day toured college clinics and learning labs.
News from the College of Dentistry!
Welcome to the Academy of Alumni & Friends E-NEWS, your quick and convenient connection to the University of Florida College of Dentistry. E-NEWS will arrive electronically each month packed with news about the college and your fellow UFCD alumni and friends. Send us an e-mail to let us know what you think; your feedback is important to us.
A Note from the President of the Academy of Alumni & Friends

As the 2006 president of the UF College of Dentistry Academy of Alumni & Friends, I am pleased to introduce you to this first edition of the UFCD newsletter, E-NEWS—a convenient and timely electronic forum to share news with the Academy of Alumni & Friends.
Thanks to your generous annual giving to the Academy, we raised $76,450 specifically for student and alumni programs in 2005! We're making plans to do even better in 2006. Your support helps fund student dental organizations, the Professional Coating Ceremony for rising juniors, special events and the Academy of Alumni & Friends student scholarships as well as Dental Fall Weekend, FNDC and area receptions for our alumni, friends, faculty and students.
We hope you will continue to enrich our students' dental education through your annual gift to the Academy of Alumni & Friends. We're planning big changes for our annual giving campaign, which kicks off in May 2006. Watch for more information in future E-NEWS or visit www.dental.ufl.edu/alumni.
I encourage you to join me in this exciting new endeavor. Our support of UF's dental students will keep the college on the leading edge of professional dentistry and will assist in producing quality graduates to join us in Florida's dental community!
– Gregory D. Reddish, D.M.D., Class of 1980
The University of Florida College of Dentistry is holding its fourth annual "Give Kids a Smile" event. Give Kids a Smile is part of the American Dental Association's national children's dental access day during National Children's Dental Health Month. This year during Give Kids a Smile, the college and our community partners expect to treat more than 200 low-income Alachua County elementary school children. Children will come to the UF dental clinics Feb. 3 for screening and treatment planning; on Feb. 24 free dental care will be provided to participating children by faculty and students in UF dental and ACORN clinics, and by more than 24 Alachua County Dental Association members and Santa Fe Community College dental hygiene faculty and students at the SFCC clinic.
For your patients… To access fun oral hygiene materials for kids and educational materials for parents and teachers, visit www.HelpKidsSmile.org
Get Your UFCD Commemorative Coin!

Michael D. Louria, D.M.D., UFCD Class of 1997, has designed and produced a truly beautiful dental coin to serve as a unique symbol of affiliation with the UF College of Dentistry "to show others who we are and where we come from."
The coin is large—nearly two inches in diameter—and made of heavy, hi-relief 3-D metal. Colors are silk screened over antique silver finish, and epoxy resin applied overall for durability. Photos of the coin do not adequately depict the coin's quality and beauty.
To become a part of what could evolve into a new UFCD alumni tradition, coins may be purchased directly from Dr. Louria for a mere $10 plus $2.50 S&H. One hundred percent of coin profits after production and shipping go to the Academy of Alumni & Friends to help support student organizations, educational trips and special events.
Order your coin directly from Dr. Louria, and enjoy a UFCD keepsake that will last a lifetime! Dr. Michael Louria's contact information is: Michael D. Louria 5738 Canton Cove, Suite 100, Winter Springs, Fla. 32708. E-mail: [log in to unmask]
Are You Radio Active?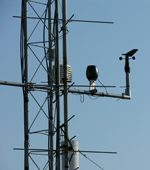 As Gulf Coast residents from Key West to the Panhandle know, hurricane winds can render modern communications technologies into silent artifacts of a destroyed landscape. During these times of disaster, a little-known group of self-sufficient, amateur (ham) radio operators have helped bridge the communications gap, networking with police, aid organizations and each other to speed rescue and relief efforts. Their knowledge, technical skills and personal ham radio equipment can quickly open communications in disaster areas. Jay Garlitz, (D.M.D. '82) wants dental alumni and friends to join the ranks of Florida dentists who are also ham radio operators in helping Florida's residents during times of emergency.
"Amateur radio is a versatile hobby, and one that dentists, physicians and other health professionals should take well to," Garlitz said. "It involves technical aspects and working with people, both of which health professionals do very well." Read More.
The College of Dentistry is participating in a seven-year, $19.1 million, federally funded study of the causes and treatments of temporomandibular jaw disorder, or TMJ. The four-center study is based at the University of North Carolina Chapel Hill, and the UF effort, led by Roger Fillingim, Ph.D., associate professor of community dentistry and behavioral science, will be based in the college's Parker E. Mahan Facial Pain Center.
The study, called Orofacial Pain: Prospective Evaluation and Risk Assessment, or OPPERA, is the first, large-scale clinical study of its kind to examine the risk factors that lead to TMJ. OPPERA will track 3,200 healthy volunteers for three to five years to see how many will develop the disorder. The expectation is that patterns in genes and other biologic factors contributing to pain sensitivity, which increase the risk of developing the disorder, may be identified. It is hoped these findings will lead to improved treatments and methods of earlier detection.
Other investigative units participating in the OPPERA study include the University of Buffalo-SUNY and the University of Maryland at Baltimore.
The National Institutes of Health estimate as many as 15 percent of Americans may suffer from TMJ-related jaw pain and restricted movement. TMJ seems to affect women more than men, and the cause of the disorder is often unknown.
Faculty Achievements

Dr. Franklin Dolwick
In 1980, M. Franklin Dolwick, D.M.D., Ph.D., professor of oral and maxillofacial surgery and director of hospital dentistry for Shands, submitted an article with four collaborators to the American Journal of Roentgenology. The article, entitled "Arthrotomography of the Temporomadibular Joint," has since become one of the top 100 articles cited over the journal's 100-year history of scientific reporting on medical imaging—swinging in at number 78 with a total of 178 citations. The achievement was celebrated last month in the Centennial issue of AJR, the journal of the American Roentgen Ray Society.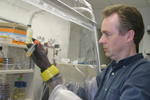 Dr. Richard J. Lamont
Richard J. Lamont, Ph.D., professor of oral biology, has been appointed director of translational research and career development. The position is newly instituted to facilitate research infrastructure award goals of fostering the career development of junior and transitioning faculty, and in providing clinical faculty and residents with greater access to the basic science research programs in the college.
Lamont's leadership in developing the careers of dental faculty is considered critical to the successful development of a translational research program within the college that bridges basic science research and clinical practice, and will ultimately lead to improved patient care.

Dr. Ivar A. Mjör
Ivar A. Mjör, B.D.S., M.D.S., Dr. Odont., professor of operative dentistry and Academy 100 eminent scholar, has been tapped to receive the European Federation of Conservative Dentistry's prestigious Award of Excellence during the federation's February meeting in Rome, Italy. Mjör, an internationally respected dental educator and researcher, was selected to receive the award in recognition of his outstanding contributions to restorative dentistry in Europe. He is also scheduled to speak on practice based dental research during the meeting.
The European Federation of Conservative Dentistry is made up of national dental organizations from the countries of France, Germany, Great Britain, Holland, Italy, Spain, Sweden, Switzerland, and Turkey.
There's still time to register for the 3rd Annual Soft Tissue Oral Pathology Symposium
Dates: Feb. 24-25 (Friday/Saturday)

Location: Orlando Walt Disney World Contemporary Resort

Who should attend: Generalists, specialists and dental hygienists with an interest in oral medicine/clinical oral pathology.

Description: This course uses a case-based approach to provide participants with cutting-edge concepts of diagnosis and treatment of various oral soft tissue lesions including lichen planus, burning mouth, oral infectious diseases, vesiculo-ulcerative lesions, xerostomia, autoimmune and salivary gland diseases, and oral cancer. The course will also focus on the differential diagnoses, etiology and pathogenesis of these conditions. For more information, visit www.dental.ufl.edu/Offices/CE/course060433.html