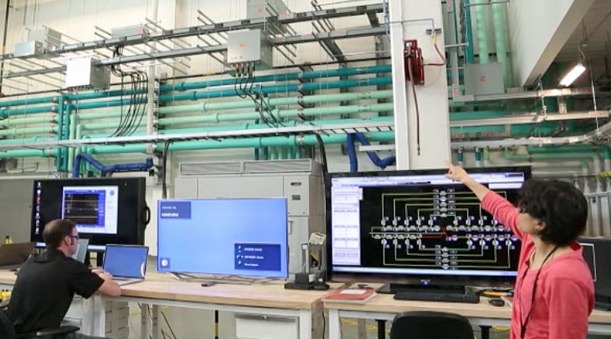 As the first industry partner to use the ESIF, Advanced Energy is testing its new solar PV inverter technology with the facility's utility-scale grid simulator and hardware-in-the-loop system. Image from NREL
Fast Fact: 2012 a Record Year for California Solar
According to the California Public Utilities Commission's annual progress report for the California Solar Initiative, a record 391 megawatts of solar were installed statewide in 2012—representing 26% growth from 2011.
First Look: Utility-Scale Inverter Testing
The SunShot Initiative has released a new video highlighting the utility-scale solar inverter testing capabilities at the Energy Department's new Energy Systems Integration Facility (ESIF) at the National Renewable Energy Laboratory (NREL) in Golden, Colorado. Featured in the video is SunShot awardee Advanced Energy's inverter testing at the ESIF as part of the SunShot Solar Energy Grid Integration Systems-Advanced Concepts (SEGIS-AC) program.
ARPA-E Announces $30 Million for New Hybrid Solar Energy Systems
ARPA-E has announced $30 million to fund Full-Spectrum Optimized Conversion and Utilization of Sunlight (FOCUS), a new program aimed at advancing solar energy beyond current photovoltaic (PV) and concentrating solar power (CSP) technologies. FOCUS seeks to develop two distinct technology options to deliver low-cost, high-efficiency solar energy on demand, specifically new hybrid solar energy converters and new hybrid energy storage systems.
BLM Land Order Facilitates Solar Development on Public Lands
The U.S. Department of the Interior's Bureau of Land Management (BLM) has approved a Public Land Order that withdraws 303,900 acres of land from mining claims within 17 Solar Energy Zones in six western states. BLM determined that the mining claims could impede development of solar sites in these zones, which encompass the lands most suitable for solar installations.
Don't Miss Final Webinars of Solar Action Series
Join the SunShot Initiative, in coordination with the Solar Outreach Partnership, for the final two webinars in this summer's Solar Action Webinar Series: Successes from the Rooftop Solar Challenge on July 24 and August 7.