Free Webinar: Cost & Technology Projections for Wind & Solar
The Clean Energy States Alliance is hosting a webinar on Tuesday, Dec. 17 featuring SunShot's David Feldman to discuss cost and technology projections for wind and solar. David will provide an update on the solar industry, including current and future trends related to global photovoltaic (PV) demand, production capacity, costs and market penetration. Register.
Did You Know?
As of the third quarter of 2013, the U.S. now has more than 10 gigawatts of installed PV solar capacity. That's enough to power more than 1.7 million average American homes. Learn more in the Solar Energy Industries Association's U.S. Solar Market Insight report.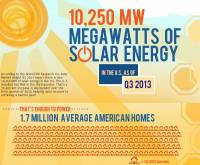 SunShot Incubator Virtual Showcase
Want to learn more about what it takes to be a SunShot Incubator awardee?Join us on Thursday, Jan. 7 from 4:00-5:00pm ET for a webinar featuring one-minute presentations from current Incubator awardees. Register.
Help Solve Solar's Big Challenge: Soft Costs
New research shows that the non-hardware "soft costs" of a solar energy system – such as permitting, customer acquisition, and operations – now account for up to 64% of the total price of installing residential solar energy systems in the United States. That's why in the most recent round of the Solar Incubator program, SunShot announced $10 million to fund outside-of-the-box ideas to solve the soft costs problem. Learn more and see the infographic, then apply for Incubator funding today. Concept papers due Jan. 13.

SunShot Announces Integrated Solar & Energy Storage Workshop
Members of the energy community are invited to participate in SunShot's "Integrated Solar & Energy Storage Workshop" on Monday, Jan. 13 in Berkeley, California. This workshop will discuss gaps in research, development, and deployment of integrated solar PV and energy storage systems, as well as opportunities for the Energy Department and SunShot to help to bridge these gaps. All interested stakeholder groups are invited to participate. Space is limited so register today.
SunShot Invests $13 Million in Innovative Solar Manufacturing
Last week, SunShot announced more than $13 million for five projects to strengthen domestic solar manufacturing and speed commercialization of efficient, affordable photovoltaic and concentrating solar power technologies. Matched by over $14 million in private cost share, this funding will help five companies in California, Colorado, Georgia, Pennsylvania and Oregon to develop cost-effective manufacturing processes for PV and CSP technologies. Read the press release and learn more about the projects.
SunShot Funding Opportunity: Next Generation Photovoltaic Technologies III
Next Gen III seeks to support research that applies basic science towards the realization of devices that demonstrate the PV effect. Specifically, this program is soliciting proposals that apply promising basic materials science that has been proven at the materials properties level to demonstrate PV conversion improvements addressing or exceeding SunShot goals. Apply today. Concept papers due Jan. 3.
SunShot Welcomes New PV Program Manager
The SunShot Initiative is pleased to welcome Dr. Becca Jones-Albertus as its new PV program manager. In her role, Dr. Jones-Albertus will be responsible for managing SunShot's significant PV research and development portfolio. She brings to the role more than 10 years of experience working with solar cell materials and devices, from fundamental research and development to manufacturing. Most recently, Dr. Jones-Albertus was the characterization and design manager at Solar Junction. She holds a B.S. from Princeton University and a M.S. and Ph. D. from the University of California, Berkeley.