Dear SunShot Supporters:
Tomorrow, May 24, the SunShot Initiative will host a stakeholder webinar discussing key takeaways from the On the Path to SunShot report series, which was released last week. The eight reports focus on SunShot's progress five years into the decade-long initiative, exploring the lessons learned and identifying the research, development, and market opportunities needed to reach the office's 2020 goals. In collaboration with the national labs, the reports outline a clear path forward for the industry and will inform SunShot's work for the next five years and beyond. Tomorrow's webinar will feature SunShot Initiative Director Dr. Lidija Sekaric as well as Dr. Robert Margolis, senior energy analyst at the National Renewable Energy Laboratory and lead editor of the On the Path to SunShot study series. Register to attend the webinar.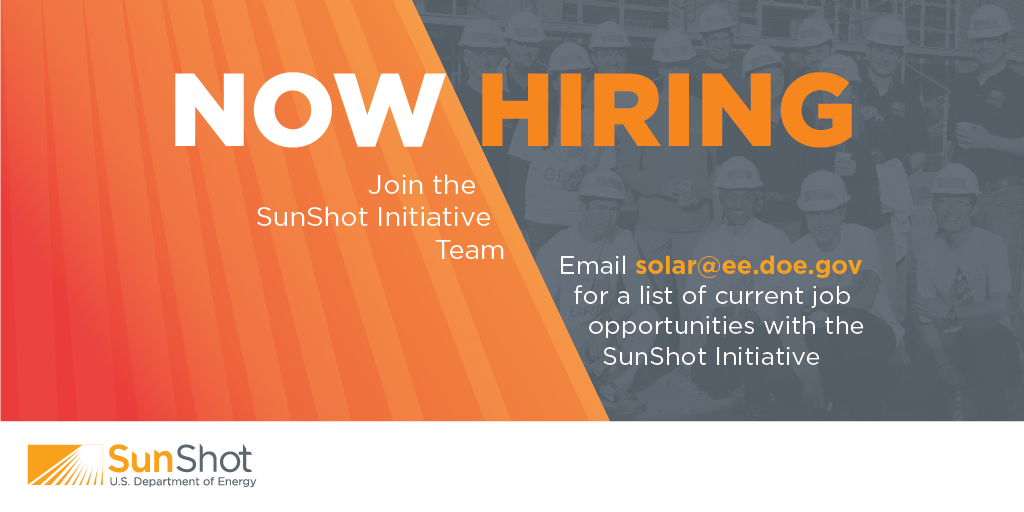 The SunShot Initiative is hiring multiple technology managers to fill vacancies on the Photovoltaics, Concentrating Solar Power, Technology to Market, and Systems Integration teams. Applications are due on May 26.
Technology managers are responsible for managing funding opportunity announcements, which includes developing strategies, planning workshops, and collaborating with contracting officers. In addition, technology managers monitor and evaluate technology portfolios to ensure that projects are making progress on negotiated goals and deliverables and make recommendations to the program manager on use of project funding.
The SunShot Initiative is looking for technology managers with different levels of experience. Apply for the GS-13 position or the GS-14 position by Thursday, May 26.
Best,
The SunShot Team